Why Should you be Running a Customer Loyalty/CRM Scheme?
---
It is often said that it is much easier to keep an existing customer than it is to get a new one. This is backed up by lots of research such as;
"Conventional business wisdom contends that it costs 10 times as much to obtain new customer as it does to retain an existing customer." - Pricing for Profitability: Activity-Based Pricing for Competitive Advantage By John L. Daly (2002), p85. Published by John Wiley and Sons. ISBN 0471221597
"Attracting a new customer can cost as much as 15 times more than retaining an existing customer." - Winning New Business in Construction By Terry Gillen (2005), p89. Published by Gower Publishing Ltd. ISBN 0566086158
90% of best-in-class retail enterprises indicate at least "some level of success to very successful results" from their loyalty programs, whereas 47% of laggard retailers and 35% of industry average retailers indicate 'no change in performance' from their loyalty program. (Source: Aberdeen Group)
Having a customer loyalty scheme/ Customer Relationship Management (CRM) Scheme in place in your business is the most important thing that you will ever do. It will allow you to earn insight into your customers, their habits and allow you to make informed decisions about your business.
Below are questions you should be able to answer about your business.
Who your best customers are?
How often they visit your business?
What your customers are buying?
Which products are often purchased together?
Track 'link sales' between lines?
What is your customers average revisit period?
What do your customers spend with you every time they come to your business?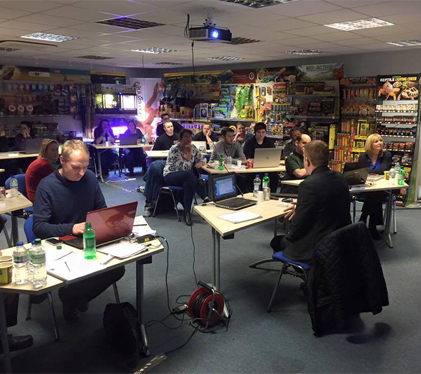 Possible results
Customers are what allow your business to run, and make you money (obviously). Having a good CRM scheme can Vastly Improve your business. It can bring in more customers, and keep the customers coming back for more and more.
Customers are the lifeblood of any business, without them you don't have a business. We specialise in helping our customers like `you`, improve your business by giving you the tools to improve your sales and profitability through truly understanding who your customers are.
You have a massive opportunity to improve your income levels through becoming utterly focused on how your customers interact with you and your business. With Premier Epos's Customer Relationship software you will learn the tools to turn a business that is performing AVERAGE into a business that EXCELS. This will give you the financial freedom that you deserve and will allow you to achieve goals that you have always wanted to achieve.
In this letter which I strongly advise you read I will give you the business blueprint for taking your current business and giving you the tools to grow your business by 20%, 50%, 100% and even 200% Plus.
The best way for you to become a wealthy entrepreneur is for you to focus on your businesses goldmine YOUR CUSTOMERS The biggest asset you have in your business is your customers and the best way to become wealthy is for you to mine the profits that exist from your existing customers. The best way for you to become wealthy is the never ending focus on creating a back end of products and services that you can offer to your existing customers. As the old saying goes "it is much easier to keep an old customer, than it is to get a new one". As with most businesses you will probably know and understand this fact but most businesses do nothing about it.
---
What information should you be collecting on your customers?
Most businesses don't keep any records on their customers and so are therefore trying to grow their business from "blind" position.
Did you know that the simple process of setting up a loyalty scheme and not doing anything with it can increase your sales by upwards of 10%. We would suggest that you keep information such as;
Name
Address
Postcode
Telephone Number (landline)
Telephone Number (mobile)
Email Address
Products they are interested in
Business/company name if appropriate
Custom fields such as what pets they own
Birthdays, anniversaries, etc.
We advise that you collect this information at Point of Sale in your stores, or when you complete a sale though your online sales platform. If you are running lead generation sites/ phone services it is also vital to be collecting the information for use in targeted marketing, to give your customers a better experience of your company.
Do you understand why this information can be so useful to your business?
In a world where everybody has so much information available to them at all times and where businesses and people are trying to sell to them 24 hours a day, it is becoming more and more difficult to get people to commit to a purchase there and then. The reason we give away something of value to our customers in exchange for their details is because it gives you the ability to SELL TO YOUR CUSTOMERS OVER THE NEXT 5 YEARS, THROUGH EMAIL, DIRECT MAIL AND SMS, RATHER THEN HAVING TO SELL TO THEM THERE AND THEN.
---
How to get customers to sign up to your loyalty scheme
Getting as many customers as possible to agree to be part of your loyalty scheme is vital. The higher percentage of your customers that are signed up, the better the results will be for you and your business.
Do you reward your customers for giving you their information?
You should be rewarding your customers for providing you with their information because they are giving you the information that can transform your business from a good one into one of the very best.
Once the customer arrives at your store or website, give them a reason to begin a relationship with you, Ideas such as:
£5 off when you join our loyalty scheme
10% off your purchase when you join our loyalty scheme
Win £100 off vouchers in store. Sign up to our loyalty scheme today.
Earn discounts off every purchase
Earn points every time you spend in store
Mulit-buy offers specifically for loyalty card customers "In my retail stores I offer 7 for 6 on dog foods, meaning every time a customer buys 6 bags of food, the next time they come in they get it for Free".
Cheaper prices for your best customers
Give certain custoemrs their own prices on lines they purchase a lot off you.
The very best strategy for making your marketing and loyalty scheme work to the best of its ability is to give something to your customer to begin a relationship with them. A mistake that a lot of businesses make is to do the hard part of setting up a loyalty scheme and then make the assumption that everyone will want to be on it. Unfortunately this doesn't work. You have to offer the customer something that they want in order for them to hand over their information. YOU WANT TO BUY THE PERMISSION OF YOUR CUSTOMERS TO BEGIN A RELATIONSHIP WITH THEM. This could be the single biggest decision you ever make to improve your business.
---
The role your staff play in this process
One of the biggest hurdles that you will face in your loyalty scheme is to get your staff to "buy into" the importance of your loyalty scheme. In my stores we have had differing success in getting staff to sign up as many people as possible to the loyalty schemes. By far and away the best success we have had has been to incentivise the staff through rewards for performance. Some of the examples that we used are below:
A £20 reward for the member of staff who has signed up the most people to the loyalty scheme this week.
A £10 reward for the member of staff with the highest percentage of their sales being to people with a loyalty card in the business.
Free Cinema tickets to the member of staff who has improved most when it comes to signing up customers to the loyalty scheme.
It doesn't matter how you do it, but your staff are vital when it comes to the success of your loyalty scheme. The more incentivised your staff are the more people will sign up to your loyalty scheme.
---
How does a loyalty card work in your business?
When you sign a customer up to your loyalty scheme you usually issue them with a plastic card, that is magnetically encoded with a unique number (no information should be held on the card, this is what your database is for).
Some examples are below Once you have given your customer a card you will then ask every time a customer comes to purchase something from your business " have you got your loyalty card with you today" This a brilliant question because you will get one of 3 answers.
Yes, here is my loyalty card.
No, I haven't got it with me today. (in this case you should search for your customers name in the database on your till system).
No, I don't have a loyalty card. You can then explain the benefits to them about having a loyalty card with your company.
---
What will you learn from having a loyalty scheme set up in your business?
The whole point of setting up a loyalty scheme is to gain insights into your customers to then allow you to use this information to grow your business.
Do you know that the information you obtain on your customers can be worth tens if not hundreds of thousands of pounds to your business every year?
The information you gather from your customer will allow you to see;
Who your customers are?
How often they shop with you?
How far do they travel to shop with you?
How many other shops selling the same products have they come past to visit your business?
What products are they purchasing off you?
How much is their average spend?
Do they stop purchasing certain products off you? Is that because of a price increase?
Could they be purchasing other products off you?
Has your customer changed their buying habits?
Are they coming in more or less often?
Have they changed what they are buying?
Have certain customers stopped coming to your store?
Have other customers joined your top 100 customers?
Who are your best 100, 250, 500 customers?
Who are you "worst customers" (if that is possible)
Who are the best families who shop with you?
Which companies spend the most with you?
Are their individuals within that company who spend more than their colleagues?
Do your best customers buy similar products?
Do people buying certain products and services with low margins, just buy those products rather than other products that you sell?
How much are loyalty scheme customers worth VS non-loyalty scheme customers.

(There will be a big difference. Sometimes your loyalty customers will spend double on average what your other customers spend)
---
The 80/20 rule and your business.
In business we are taught that you have to treat all customers equal. This however is one of the worst things you can do.
It is true that you should want to give your customers the best possible service and experience you can, however to treat all of your customers as equals would be a mistake.
This is because all your customers are not equal. The 80/20 rule states that 80% of your business will come form 20% of your customers. This might not be the exact percentage that you operate at, however it is definitely true that all your customers are not equal.
Your aim should be with the 20% of customers who make up 80% of your business, You want to give them service that is so good, that they would never leave you and so that they are so impressed with your service that they massively increase their spend with you.
On Premier Epos's Customer Relationship Management system you are able to accurately see who you best customers are, month to month and allows you to focus your attentions more on the customers who are worth the most to you and your business.
To extend this theory, your top 5% of customers could easily be worth 10 times as much as all of your other customers combined, so you should focus most heavily on making sure that these customers get service that is above and beyond what you would normally give.
---
The only ways you can grow your business?
Most business owners think that the only way to grow your business is to get more customers through the door, and whilst this is one method it is not the way to see extraordinary growth.
If you believe the only way to see massive growth in your business is through getting more customers, it makes you believe that massive growth is not achievable. Below are 2 examples of how you can see massive growth in turnover and profits through easily achievable goals.
Example 1
If you can through good marketing strategies and goals
Increase your number of customers by 10%
Increase their average spend by 10% (you can view average spend easily and using marketing techniques you can drive up sales)
Increase the number of times they visit by 10% (again through marketing to specific customers you can easily drive up the amount of times a customer visits your business).
How much will this increase your turnover by? 5%? 10%?
The answer is 30%. To put these into figures for you to see how easy it can be done.
Turnover - £100,000
Transactions - 10,000
Customer - 1,000
Average Spend - £10
Yearly transactions (per customer) - 10
Increase number of customers 1000 by 10% = 1100
Increase the average spend £10 by 10% = £11
Increase the frequency of visits 10 by 10% =11
1100*11*11 = £133,100
This has given an increase in turnover of over 33%, by adding 10% to each of the categories
Example 2
If you use our systems to their ability and focus on delivering excellent customer service, with customer specific marketing campaigns growth such as below is easily achievable.
If you can achieve figures below how much will our turnover increase?
If you can increase your customers by 30%. (easily achievable through good marketing techniques).
Increase their average spend by 20%
Increase the number of times they visit by 30% How much will your turnover increase by? 30%? No it will increase by over 100%. See below.
Turnover £100,000 • Transactions 10,000
Customers 1000 • Average spend £10
Yearly transactions 10 ( per customer)
Increase number of customers 1000 by 30% = 1300
Increase the average spend by £10 by 20% = £12
Increase the frequency of visits 10 by 30% =13
1300*12*13 = £202,800
---
What do your customers have in common?
You should start looking at what your customers have in common with each other? You can look at things such as:
Age
What age are the majority of your customers?
We usually advise you to split your age groups into categories such as
Child 0-12 years
Teenager 13-19
Young adult 20-30
Older adult 30-60
Senior 60 Plus
This isn't a definitive list, the more diverse your groupings the more specific you can be when it comes to looking into the results.
Do you have different spending patterns depending on the customers age? • Which age group is worth the most to you?
Which age group is worth the least to you?
Sex
Are you attracting more men or more women to your business?
Are men or women worth more to your business? Area/ Postcode • Which areas are best for your business? • Are you selling locally or nationally?
If you are a local business, you may have massive differences in how your customers interact with your business depending on where they come from.
National businesses may find that a customer from Manchester spends more than a customer from London for example
Do customers from certain streets purchase more off you than others, etc, etc.
Car Owners
Car ownership has long been considered a good measure for peoples disposable income.
Do your customers who have a car spend more than the customers who don't?
Obviously people who have a car are more likely to be able to travel further to come to your business.
Jobs/Employment
Do your customers who are employed spend more than customers who aren't in employment?
Do customers who work in certain industries spend more than customers in other industries?
Does someone who works for the council spend more in your business than someone who works for the local takeaway? Or vice versa?
Interests
What interests do your customers have?
Is someone who likes football worth more or less to your business than someone who is interested in beauty?
Do your "best" customers have similar interests?
Do your "worst" (if there is such a thing) customers have similar interests?
Parents
Are you selling products that appeal more to customers who are parents?
Do parents or people without children spend more in your business?
Car owners
Jobs
Interests
Parents
Products they purchase
Use this info to build a target market
---
Build an ideal customer
Every business has an ideal customer ( a customer who they would ideally target because you would get the highest Return On Investment ROI). By focusing on who your customers are you can learn things about them.
For some businesses such as hairdressers, demographic profiling is easy. In a typical hairdressers they are targeting women between 20-40 years of age. This makes their profiling easy when it comes to marketing.
Not all businesses are the same. Take my pet shops for example, traditional pet shops typically skew slightly older in regards to the customers they attract. My shop is different. (this is probably due to the products that I sell and the location of the stores)
My best performing demographic is women aged between 30-40. They are worth over double to my business of a man aged 50-75.
Now each business is different. You want to be able to see what types of people your business is attracting and use that information to target other people who fit these criteria.
By using the information you build up, you can also see products your ideal customers purchase. You are then able to target customers who fit this same criteria but don't purchase these products.
---
How often do you communicate with your existing customers?
Never?
Yearly?
Monthly?
Weekly?
Daily?
The simple truth is that the more you communicate with your existing customers, the more sales you will achieve. We have never encountered a business who is communicating with their customer enough and you will be no different.
In order to achieve its potential your business should be communicating at least twice a week and you should be communicating with them in a number of different ways.
Someone who has already purchased off you is a much easier customer to sell to then someone who has never had a relationship with you before.
---
What messages are you sending to your customers?
What methods of marketing are you using to communicate with your existing customers?
If you are like 90% of the businesses that are out there you will be communicating with your customers very little, if at all. This means that you have massive potential to grow your business by 20%, 50%, 100% and even 200% by simply contacting your customers in different marketing methods.
You should be aiming to contact your customers at least twice a week though a number of different marketing methods.
It is now believed that you can have to target customers up to 28 times through different marketing methods in order to get them to purchase from you due to the amount of information that people are being bombarded with every day in their busy lifestyles.
Some ways for you to contact your customers are;
Email Marketing
Once you have obtained the customers email information you can put the customer into an email marketing sequence where you can sell to them over a long period of time.
Using Premier EPOS's marketing manager you can set up marketing campaigns that go to;
Different customer groups.
Customers who have purchased particular products off you.
Customers who have never bought a particular product off you.
All your customers
Customers with the highest spend
Your best customers
People who haven't purchased off you for a while
People who have just purchased a product off you!
Etc, etc, etc.
When sending email marketing you have to send a reasonably high number of emails to get people to see your message.
This is due to the fact that;
A high number of emails bounce back even when you have accurate email addresses
Your customers don't open all their emails (most people only open 20%-50% of their emails because of junk.)
Your email can end up in the customers SPAM filter.
Even when customers open your email they can get distracted, and don't read the whole email.
Even customers who are interested in what you have to offer, it can take them 3 or 4 emails before they take action on what you are offering them.
These reasons make it very important that you are in constant communications with your customers via email to encourage them to continue to purchase from you.
Direct Mail
As with email marketing direct mail allows you to target customers based on peoples buying habits.
Although many businesses have moved away from traditional marketing like direct mail, it is for that reason that direct mail has become even more important now in an age of online marketing due to the fact that people are getting less direct mail though the post than they have done for a long time.
Direct mail has many advantages some are listed below;
Allows you to get directly to the person you are targeting.
A lot less competition than other forms of marketing.
Statistical probability. If you send 1000 letters out and get 25 responses you will get in the region of 50 responses if you send out 2000 letters.
You can scale up the mailshots based on the statistical probability you have been achieving on other mail shots.
Allows you to easily test and measure response rates.
Most people will open mail as opposed to email which some people ignore. You can also send all kinds of different direct mail pieces such as Sales letter, Postcards, DVD's/CD's, Newspaper cut outs or Lumpy Mail (something big and bulky so that people open your mail).

All these different methods add to your customers experience and allow for a better relationship, and with that more sales.
SMS Marketing
SMS marketing is a relatively new piece of marketing material. Using the Premier Epos's marketing suite, you can target your customers in the same way that you can using our Email and direct mail sections.
The advantages of SMS marketing is that currently very few people are using the technology so most companies are not using SMS marketing as part of their marketing strategy.
SMS marketing has many advantages over other marketing methods currently such as;
Delivered right to people on their phones
Almost all SMS messages are opened.
People can have the ability to reply directly to the SMS
You can join the group of customers who are seeing very high levels of results using this form of media.
You can test the effectiveness of sending out vouchers and discounts because the customer produces their phone at the till allowing results to be measured.

You will get good measurable results because customers typically have their mobile phones on them and this enables you to know exactly which method of marketing has brought them to your business.

When you take these three marketing methods and you put them together you can see massive amounts of growth to your business.

When you do just one of these methods you will get good results but by focusing on targeting your customers through multiple marketing methods it causes a snowball effect and your business increases massively.